Lodging Near Yosemite
Yosemite Rose Lodging
Bed & Breakfast Yosemite National Park
| | | |
| --- | --- | --- |
| | Yosemite Rose: Walking trails wind through Yosemite Rose's 210 acres. Past the stables, horse arenas, ponds, pastures, and timberline. A half hour stroll to the knoll places you 2000 feet above the Toulumne River from which Yosemite National Park can be seen in the distance about 18 miles away. Yosemite National Parks' Half Dome is visable. Many guests are astronomers that come here to place their telescopes on the knoll for a night of star gazing. The Yosemite National Park wilderness borders the property and is open to the public. The Hambi Trail leads to the Tuolumne River canyon below. | |
Yosemite National Park:
The park embraces more than 30,000 square miles of scenic wilderness. Ranging from 2000 feet above sea level to peaks towering over 13,000 feet. Visit Yosemite Valley, Mariposa Grove, Glacier Point, Crane Flat, Tioga Road, Tuolumne Meadows, the Indian Village of Ahwahnee, and the Hetch Hetchy dams. See world famous water falls, picturesque lakes, Half Dome and Giant Sequoia groves.
| | |
| --- | --- |
| Yosemite Falls, Yosemite National Park | Bridle Vail Falls, Yosemite National Park |
Hetch Hetchy Dams, Yosemite National Park:
These spectacular dams are the source of drinking water and hydroelectric power for the San Francisco bay area. The home of awesome scenery and less-used wilderness trails. Towering cliffs and high waterfalls are seen from the walkway on top of O'Shaughnessy dam. Breath taking. An hour drive from the B&B.
| | |
| --- | --- |
| O'Shaughnessy dam, Yosemite National Park | Awesome scenery near Yosemite Rose lodging |
River Rafting the Tuolumne:
The Tuolumne River is California's finest wilderness whitewater rafting river. Located just outside Yosemite National Park, the Tuolumne offers 18 miles of class 4 rapids, scenic creeks and wide sandy beaches for camping. Professional whitewater rafting companies offer 1 - 3 day adventure trips down the river. The starting point is 5 minutes from our B&B - the closest lodging accommodations to the river put-in. For more rafting information, click on the following web sites :


www.zrafting.com ( Zephyr Whitewater Expeditions )
www.echotrips.com ( Echo Classic River Adventures )
www.oars.com ( Oars River Rafting )
Columbia Historical State Park:
Columbia is both a state park and a living town. Columbia state park recreates a gold rush town of the 1850-1870 period. Take a step back in time and experience the spirit of California's best preserved Gold rush town. Learn about life as it was during one of our State's most exciting time periods. On 275 acres, the park includes historic structures, living history, shopping, museum, hiking, picnic facilities and interpretive programs. 35 minutes from B&B.
| | |
| --- | --- |
| tourist gold panning, Columbia State Park | Docen strolling, tourist shops, columbia State Park |
Big Trees State Park:
This state park contains some of the most massive and awe inspiring trees (Sequoiadendron giganteum) on the face of the earth. Sierra redwood trees are the largest trees in the world. Many sierra redwoods are between 250 and 300 feet tall, the tallest being about 325 feet high. While their height is impressive, the real wonder of a sierra redwood lies in its bulk. Many of these giants have diameters in excess of 30 feet near the ground, with a corresponding circumference of over 94 feet! An hour from the B&B.
Rail Town 1897:
Rail Town 1897 State Park is located in Jamestown about 35 minutes away. Tour the historical railroad workshops and roundhouse. See props and sets from famous Hollywood productions and shop in the depot store. Take a vintage steam engine train ride into the higher Sierra.
| | |
| --- | --- |
| ticket office for a steam train ride | touring the steam engine round house |
Local Wineries:
The most famous is Ironstone winery. Visit the largest gold nugget found in the 20th century. The nugget can be viewed at the Ironstone Museum. Winery tours, wine tasting, gourmet deli and picnics. About an hour away.
Golfing:
The Pine Mountain Lake development, a few miles away, boasts a year round 18 hole golf course.
Rainbow Pools:
Rainbow Pools:
Rainbow Pools is a series of enchanting soaking and swim holes about 5 miles away. The Pools are fed by a small river and includes parking facilities.

The local swimming hole
Mercer Cavern:
This is an exciting 45minute tour as you descend the equivalent of a 16 story building by way of stairs and walkways. You will see marvelous formations that have formed in the caverns over time.
Moaning Caverns:
45 minute and 3 hour tours are given here. Energetic cave explorer's can begin by rappelling 165 feet down, followed by a 1 or 2 hour exploration through deep chambers and passages.
| | |
| --- | --- |
| under ground cavern rock formation | under ground cavern looking up |
Horseback Rides:
Local stables offer year round guided trail rides, lessons, full and self-care boarding, stalls, paddocks, pastures and arenas. Minutes from the B & B. Many of our guests have enjoyed the trail rides.
Skiing:
(Cross country skiing): several places along highway 120. The most popular cross country ski is Yosemite's Crane Flat near the highway 120 Yosemite entrance about 30 minutes away.
(Down Hill skiing): Dodge Ridge and Badger Pass. Both are 1 to 1 1/2 hours away. Both are family ski resorts where beginners to expert down hill runs are well maintained. A winter family adventure exists here. Badger Pass is in Yosemite off highway 120; Dodge Ridge is above Sonora on highway 108.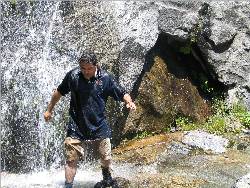 guest under water fall, Yosemite National Park
Trip Advisor
Yosemite Rose - 5 Stars - Certificate of Excellence